The Guernsey Literary and Potato Peel Pie Society - Review
The Guernsey Literary and Potato Peel Pie Society is definitely the weirdest titled movie I have watched this year. It was a predictable romantic story, but the journey was still enjoyable. As far as Netflix Original Films go, it was one of the better ones.
As always, there will be some minor spoilers peppered throughout.
The title alone had me intrigued. Then I saw it was a vehicle for Lily James to showcase her amazing talents, which made me buy into it more. Then I realized it preached the power of a story, and how powerful books can be even in the darkest of times, and The Guernsey Literary and Potato Peel Pie Society had my heart before I had even watched a frame.
Guernsey showcases how war – specifically World War II, had different impacts on different places. A place like London recovered quicker than a small town like Guernsey. Author Juliet Ashton (James) has everything, except for a great story to write. In a familiar trope, Juliet becomes part of the story she was seeking out.
Every character has depth to them. Even Juliet's boyfriend, Mark Reynolds (played by Glen Powell) can be sympathetic at times. Every character serves a purpose in the story, and that is about all you can ask for.
If you are wondering about the title, the film wastes no time in explaining it. It is clunky, but it is the best non-generic title to give to the movie.
The journey that Juliet takes to realize she is her own best story feels earned. You are with her every step of the way, so once she finds happiness, you feel you were partially responsible. The story about The Guernsey Literary and Potato Peel Pie Society that Juliet uncovers is also quite good. That was the flavor needed to make this standard love story stand out from the rest.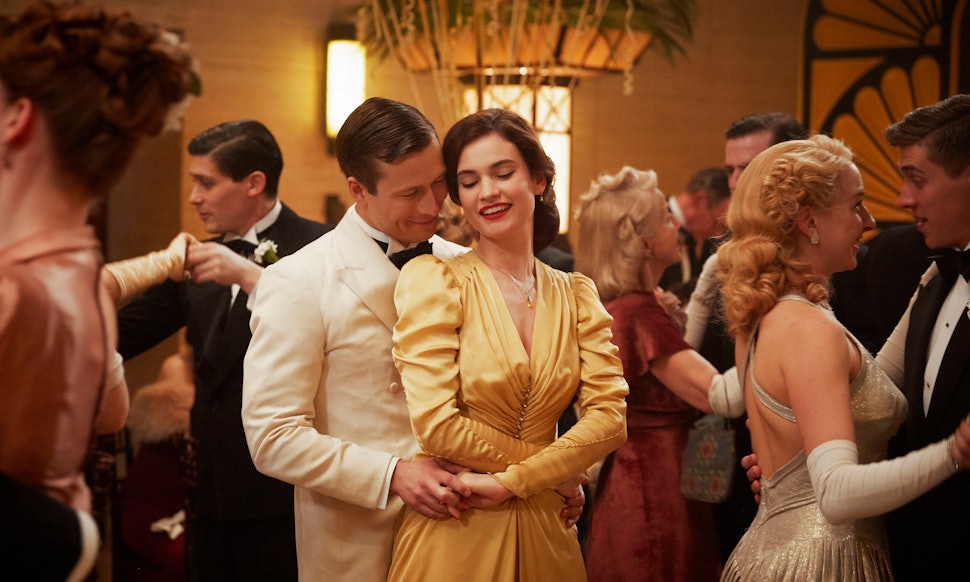 The film does a great job portraying the horrors of war outside of the front line. In other words, Guernsey shows that it is not just the soldiers on the front lines who are suffering. Everyone, in some way, has been affected by the war.
I've had my issues with Mike Newell as a director (he's the reason Dumbledore isn't Dumbledore-like in Harry Potter and the Goblet of Fire), but he does a great job here building Juliet's world to one that you instantly connect to. The humanity is what you can connect to the most. People bonding together in times of hardship, in order to make life a little more bearable.
James' performance makes it so you instantly root for Juliet. You want her to succeed in her goals. You want what's best for her. It says a lot about her talent as an artist, that she is able to do that in so little time. It was the same with her role in Baby Driver. She is instantly likeable.
If you like period pieces and romantic tales The Guernsey Literary and Potato Peel Pie Society is perfect pulp junk food for you.
Out of all the Netflix films I have reviewed, this is somewhere in the middle, but it's closer to the top than the bottom. It is perfectly adequate.
The Guernsey Literary and Potato Peel Pie Society is now streaming, exclusively on Netflix.