WandaVision - Episodes 1 & 2 - Review

The Marvel Cinematic Universe is back after over a year (!) absence. WandaVision had the honor of ushering in Phase 4 with the most unique entry in the shared universe yet. When it was announced that there would be television shows set in the MCU, with MCU characters, on Disney+, this one instantly caught my attention. The other shows like Falcon & The Winter Soldier, Loki, and Hawkeye all looked like they were exactly what they seemed to be on paper. But WandaVision stuck out to me then, and I was not disappointed.
WandaVision takes the form of classic sitcoms such as Bewitched and I Love Lucy in a lovingly accurate tribute. But it also has some dark and sinister undertones teasing a larger mystery. It also deals with a few of the problematic stereotypes that those shows had back then. While Marvel movies have a certain feel, I never subscribed to the criticism that they are all the same. This sheds any expectations you would ever have, but also still feels inherently Marvel-esque. It is amazing that they pulled off the perfect balance. Thanos would be proud.
Both episodes offer a classic sitcom trope. The first episode offered a "classic misunderstanding" that produced hilarious results. The second episode had an important event that the couple must nail, and everything goes wrong. But if you have watched any sitcom ever, you know how that ends. It was seriously like being 8 years old and watching old sitcoms on Nick at Nite or TV Land. It was made with the utmost care and love.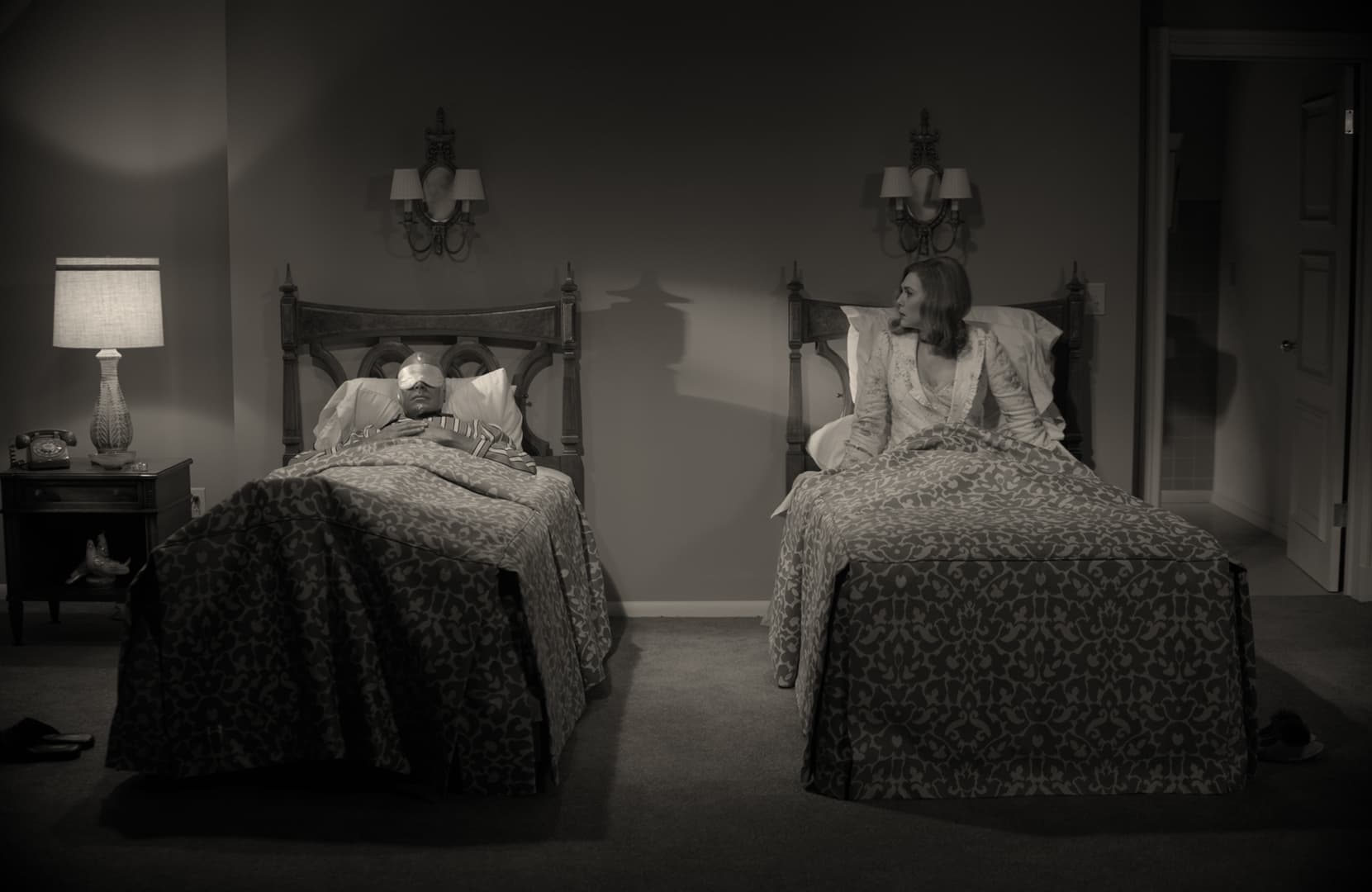 It was definitely a slow burn though, which offers a ton of mystery and intrigue. In the age of binge watching, some younger viewers might not be able to handle having to wait a week for the next entry. But it hearkens back to another old school version of TV outside of the sitcom. The slow burn is absolutely intentional, and will make the mystery all the better because of it. I definitely wanted - nay - needed more too. This is going to be a long week. Disney+ has done that to me before though, with their weekly episodes of The Mandalorian.
The episodes even have commercials built into them. But they are "in-universe" commercials that offer clues to what is actually happening. The internet should have fun dissecting those frame by frame.
The mystery is a good one. Where is Wanda? Who is trying to contact her? How is Vision there? Who are the other people they interact with? I can offer (educated) guesses to all of these things, but that's for another time.
WandaVision is unlike anything a superhero property has ever done before. Yet it feels familiar at the same time. It is truly a spectacular genre display, and the potential for it to grow and evolve is almost as limitless as Wanda's powers are. It also tapped into my nostalgia in a way that hasn't been done before, so it gets extra points for that automatically.

You can watch new episodes of WandaVision on Fridays, streaming exclusively on Disney+.